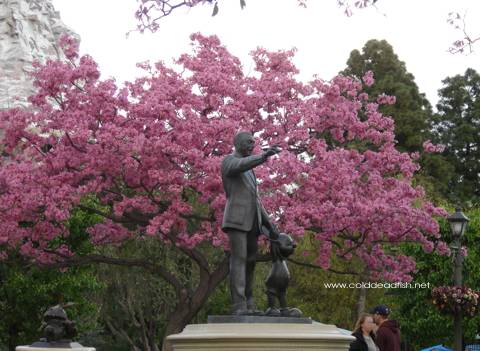 I arrived at the Disneyland Resort parking structure at about 3:40pm. It had rained really hard on the drive from the house, but there, it was sunny with some clouds in the sky, some of them even puffy white ones.
Disney is currently offering a promotion whereby people can get into one of their U.S. parks for free on their actual birthday.
If someone already has one of the qualifying admission media that day, they can then choose from a few alternate choices. People can register their birthdays through the Disney website ahead of time, and shortly before your birthday, they send you a letter by email.
Oh, and also, on the day of your birthday, if you've signed up for it, they also send you an email about your virtual birthday party. It includes a link to a page that has a couple games you can play.
I didn't need the free admission and would instead be getting one of the alternate options, and I'd heard reports from people that you can obtain those at places other than the main ticket booths, but since the line was negligible there, I just waited in the main ticket booth line. When a cast member (CM) became available, I presented her with the letter that I had printed out, as well as my driver's license and my annual pass, so she would know I didn't need admission. You don't have to pre-register to get any of the benefits, but having the email makes the process quicker since you would have already filled everything out at the time of your registration. She asked what alternate option I would like, and I told her I wanted the gift card, which is in the amount equal to the cost of a one-day, one-park ticket, currently $69 for an adult. She gave me back my license and AP, and then she handed me a gift card and flyer with instructions. In total, the process probably took about 5 to 10 minutes.
I had thought that the gift card would be one of the designs that can be purchased around the resort, so I was surprised to see that it was a completely different card. I love the design - it's really cute.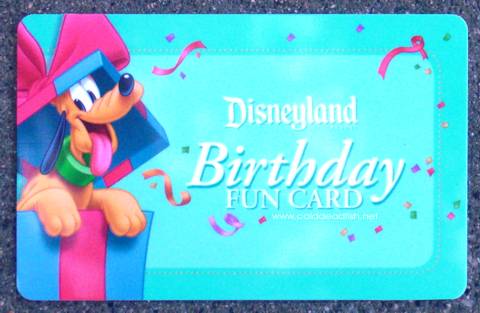 The back of the card has some terms of usage that I found to be quite interesting.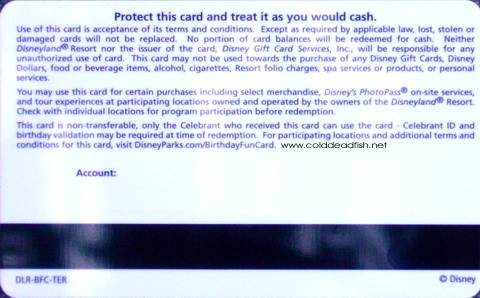 Click here for a larger version of this picture.
I thought it was interesting that the card states that it's non-transferable, that only the person who received the card can use it and that verification might be required. I later talked to a CM in a store about this, and I asked if they really did that, and she said that there was really no way for them to check. She said that originally, they had planned to actually print the recipient's name on the card, but then they didn't end up doing that. Originally, the promotion had been that the entire balance of the card could ONLY be used on the person's birthday. The wording on the card would seem to indicate it was created when that was still the intention, since it has the provision about "birthday validation" - you would only have to prove it was your birthday if you could only use the card ON your birthday. It seems that when they changed the terms of the promotion, they just didn't change the wording on the cards.
The gift card is also combinable with other forms of payment, so if you want to buy something that's more than the amount on the gift card, you can pay the difference with another gift card, credit card or cash. I didn't end up spending my gift card, partly because the item I was thinking of was no longer in stock at Disneyana, so I'll look again another day at Off the Page in DCA or at World of Disney.
Here's the flyer that they gave me.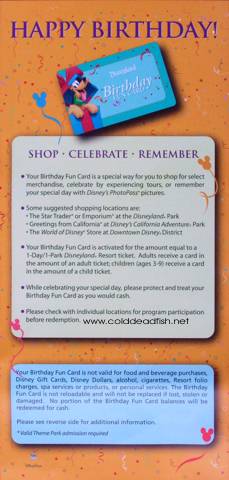 The front of the flyer.
Click here for a larger version of this picture.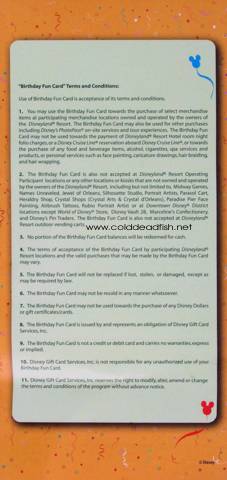 The back of the flyer.
Click here for a larger version of this picture.
I went into Disneyland and to City Hall to get my birthday button as well as a "I'm celebrating" button since I hadn't gotten one of those since the promotion began. I like that when you're wearing a birthday button, CMs who see you with the button will generally wish you a happy birthday. Sometimes, other guests will too.
It was later in the day than I had originally intended to be there, so I didn't have a lot of time before I would need to meet the husband for dinner. It wasn't so much that there were lots of things I wanted to do that day - I really just wanted to be at Disneyland. I had something that I needed to do that I brought with me which would require sitting down at a table, so I decided to go to the Golden Horseshoe. That turned out to be a very good idea because it started to rain as I made my way there, so the respite was nice.
There was no show going on at the time, and the place wasn't very crowded, so I made my way upstairs and settled down at one of the tables. I didn't think that Billy Hill and the Hillbillies were playing that day, but I wasn't sure what was. I remember there was a revue there before that I'd never had the chance to see, but I guess they're gone because after a while, the show started, and it was Laughing Stock, a comedy group than normally performs outside, right in front of the Golden Horseshoe. The show itself was ok, with some funny parts, and I finished what I needed to do right as the show ended.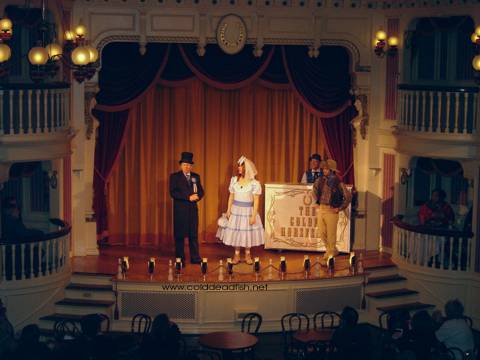 Laughing Stock performing inside the Golden Horseshoe.
I headed to Main Street and then was contemplating heading to DCA for a couple of minutes when the husband let me know that he'd arrived at the resort, so since there wasn't that much time before our reservation, I arranged to meet him instead.
Napa Rose is one of my favorite restaurants, and that's where I had chosen for dinner. We had an amazing dinner that night.
Click here for the dinner review.
All in all, it was a lovely day.